All three of the Braves' Big Three pitching prospects have now made their debut this season now that
Arodys Vizcaino
bumped Scott Proctor out of the bullpen today. He got a strikeout tonight but also
walked and plunked the bases loaded
in the ninth before handing a gift wrapped save to Johnny Venters in his major league debut. I wonder if he got a hold for that?
I am mildly ashamed that I either do not have or cannot find a card of Arodys (I think I've misspelled that name 4 times on this blog already) to scan for this post so I'm ganking one from CheckOutMyCards.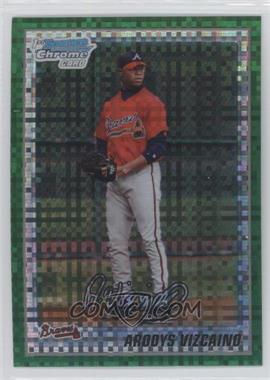 If you are wondering where the hell I've been lately, I either got really distracted this weekend and never got motivated enough to queue up some posts for this week or suddenly became highly superstitious and refused to post until a certain event happened. If Uggla goes 0-4 tomorrow you'll know it was the latter.