Yyyyyyyeeeeaaaaaahhh... There ain't no way I'm going to post all these things before the card show this weekend. I'll just accelerate my pace of one card every 4 weeks. Here's one of the things I love the most: a 1954 Topps card of a Hall of Famer in absolutely
dreadful
condition.
One thing that '54 Topps did really well was balance the small action photo with the larger portrait photo. That is not the case with this card. Topps balanced TWO action photos beautifully on this card! The large posed color action shot of Whitey about to pitch perfectly frames the small posed black and white photo of his follow through. It even looks like tiny Whitey is stepping off the O in his big color jersey. It's beautiful! Ok, it looks like a middle school scrapbooking project that was done the morning it was due, but that's the true beauty of 1954 Topps. Pretty much all the cards look like that.
Let's parse the back here a bit. First of all "Whitey's" name is put in "quotes" no less than "two" times. Topps could have called him "Edward" but no one has ever called "Whitey" Ford "Edward" ever, not even his "Momma". So if any of you all think "unnecessary quotations" are a "recent invention" then you should "think again".
The stats on the back confused me at first. Whitey Ford had as many walks as strikeouts? A WHIP pushing 1.5? Then I realized this was his first full year as a Yankee starter. This is actually his third year card, preceded by issues in 1951 and 1953.
A few observations about the cartoon. First, in 1949, Whitey played in
Binghamton
, not Kansas City. He wasn't in Kansas City until 1950, the year of his Debut with the Yanks. The sleazy looking Yankees executive in the second panel may be Yankee GM George Weiss. I thought about making a "Whitey" joke here but thought better of it. Look up George Weiss, you'll figure it out. The last cartoon panel is fantastic. You wouldn't think a baseball on the shoulder and a whoosh line would effectively convey a batter striking out badly, but in this case it somehow does.
I think I picked this one up for five bucks. That's going to be my default price for anything I can't remember since I know I picked up quite a few superstar cards for five a pop. If you think that's not a great price for a card in this crummy condition, check out this: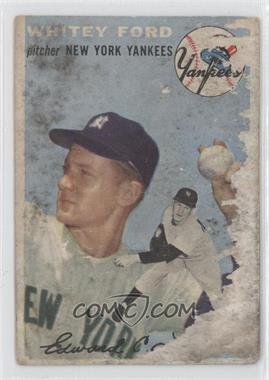 That sucker is listed for $58.50. Aww yeah, I did good.
Here's the complete list of Top 20 posts. See if you can guess what cards are coming up!
#20 - Wantlist Fail Part 1
#19 - Dollar Box Gem
#18 - At Least He's a Hall of Famer Now
#17 - Thurman Inaction
#16 - Cocktail Hour
#15 - Kid Stuff
#14 - Clubbed Cub
#13 - Cheapest High Number I Could Find
#12 - '59, Dude!
#11 - Look at the Whistler
#10 - Heartbreaking Taunt
#9 - '54 Ford With a Beat Up Chassis
#8 - King of the Bums
#7 - Joy of a Completed Page
#6 - HOW THE HELL IS THIS NOT IN THE TOP FIVE?!?!
#5 - Oh, because this one is...
#4 - Awwww, come ON.
#3 - Admit It, You Knew This Was Coming
#2 - Wantlist Fail Part 2
#1 - Feat of Clay